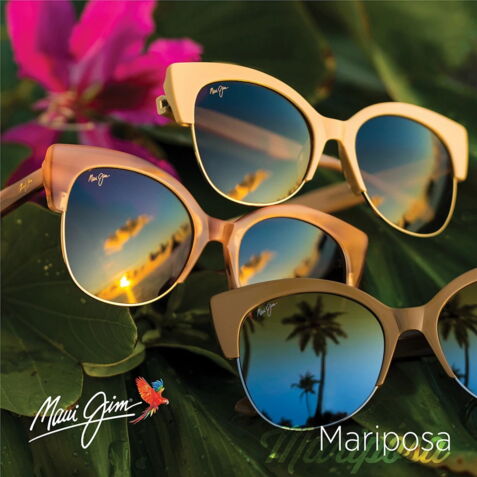 Most of us are aware of the harmful effects of UV rays when it comes to our skin, but many people do not realize the damage UV rays can cause our eyes. UV damage can put you at risk for cataracts, age-related macular degeneration, melanomas, and photokeratitis or "sunburn of the eye." Living in Florida, we are exposed to these harmful UV rays daily. The American Optometric Association recommends the use of sunglasses that block 99-100% of UV-A and UV-B rays to protect our eyes from this radiation.
While some contact lenses offer an added later of UV protection, they do not replace the need for sunglasses, as contact lenses only protect the part of the eye which they are covering. Sunglasses are still needed to protect the ocular surface beyond the edges of the contact lens, as well as the eyelids.
The color and darkness or density of the lens tint you choose when selecting sunglasses is a matter of personal preference and your visual needs. Purchasing an ophthalmic quality, 100% UV blocking lens will offer the best protection and optics. Even clear lenses can provide 100% UV protection and, conversely, a dark lens does not automatically provide UV protection. From gray to brown to green to rose and so on, different tints each offer distinct visual experiences. Our optical team can discuss and demonstrate these options to help you make the right choice for your needs.
Polarized lenses are used in sunglasses to reduce glare from horizontal surfaces, such as the road or a body of water. By only allowing certain light waves to pass through the lens, polarized lenses greatly reduce reflections. Many people, from boaters, fishermen, and beach lovers to those who do a lot of daytime driving, appreciate a significant improvement in visual comfort with polarized sunglasses.
Sunglass Lens Overview
Polarized Lenses
Our Collections Include: