Eola Eyes: Bringing Downtown Orlando Into Focus Since 2003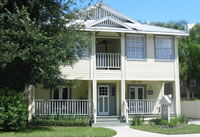 Eola Eyes opened in March 2003 in a historic office in Thornton Park, one block from the locally famous Lake Eola. The practice was started by Doctors Brighid Williams and Kerry Giedd, two young optometrists with the ambition of owning an eye care practice that reflected the vibrant growth of Downtown Orlando. They founded Eola Eyes on principles of integrity. They were committed to providing patient-centered care and fashion-forward eyewear in a welcoming, boutique-style environment, and to maintaining a healthy work-life balance for everyone involved in this woman-owned small business.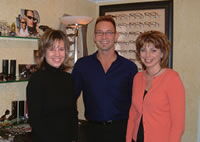 Eola Eyes grew slowly but steadily from the start and the opening of Eola Eyes was one of many highlights in the lives of its founders. The practice opened on Doctor Williams' birthday and her first lunch break on the job included a marriage proposal from her now husband. Just four short weeks later, Doctor Giedd and her husband welcomed their first child.

By the end of 2003 Jay, a talented optician with years of experience in Central Florida, joined Eola Eyes and helped to further improve the selection of quality eyewear. By Spring 2004, the office was abuzz and success seemed to be on the horizon.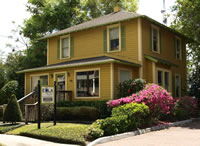 However, as time went on, not everything went as planned for Eola Eyes. The practice was still in its infancy when the 2004 hurricanes that ransacked much of Central Florida severely damaged Eola Eyes' office and nearly put an end to the business. Though the building was battered, Doctors Williams' and Giedd's determination to serve the Downtown community was not. They relocated to another historic building at 516 East Jackson Street in early 2005. As a result of their perseverance and dedication to quality, they gained tremendous support from those in the Downtown Orlando community and the admiration of their colleagues. They continually worked to improve and expand the services and products they offered to their valued patients and the practice grew by leaps and bounds from its second anniversary forward.

In April 2009, Doctor Nicole Beedle, a skilled optometrist who shared their passion for personal, quality eye care, joined Eola Eyes. A longtime, active Downtown resident with many loyal patients of her own, Doctor Beedle was a natural fit for the practice.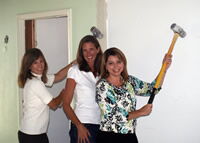 Even as the economy slowed, Eola Eyes continued to flourish and, by 2009, it became clear that the quaint little office on Jackson Street would not be able to adequately meet patients' needs in the future. So, after much research and planning, in August 2010, the doctors purchased a building they could truly make their own, where they could incorporate new technologies in patient care and expand the eyewear selection in the Eola Eyes optical boutique.
A new state-of-the-art Eola Eyes opened 519 North Mills Avenue in January 2011. The 1960s building was beautifully transformed with the support of the local community, County Commissioners, and the City of Orlando, as well as the help of a great design and construction team.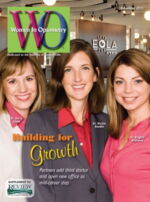 The larger office allowed Eola Eyes to offer patients a wider selection of eyewear, advanced technology, and an even more comfortable environment. While they have received many recognitions and awards, both locally and nationally, along their journey, one special highlight was being featured on the cover of Women In Optometry in 2011, after moving into the Mills Avenue office.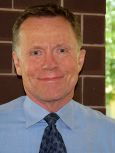 In 2014, Dr. David Rice, who had been practicing optometry in Downtown Orlando for many years, joined forces with Eola Eyes and completed the team of optometrists.
The doctors have worked exhaustively to make sure each new chapter of the Eola Eyes story maintains and embraces the treasured elements of their history, while evolving to provide an even better patient experience than was possible in the past. Since 2003, their success has been credited to the over 25,000 supportive and loyal Eola Eyes patients. Doctors Williams, Giedd, and Beedle, along with their team, remain committed to the highest standards of care and products for their current patients and for all those who may visit Eola Eyes in the future.