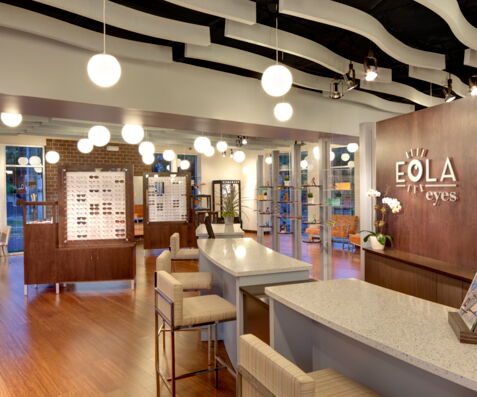 Technological advances in eyeglass lens design and engineering continue to expand and improve, allowing our patients to experience better vision, comfort, and performance than ever before. At Eola Eyes, we offer a variety of lens designs and treatments that are innovative and fit our patients' lifestyles. Our lens recommendations are made with the goal of providing you the best optical quality and visual comfort with lenses that are also attractive, durable, and lightweight.
Below is a brief overview of several of our preferred products, each offering best-in-class features and benefits: Essilor Varilux and Shamir progressive lenses, Crizal No-Glare lenses, Xperio UV Polarized lenses, Neurolenses, and Transitions lenses. We welcome you to visit our optical boutique to discuss which lenses would best suit your needs or click the links below to watch a video about the benefits of glare-free and progressive lenses.
Glare Free Lenses
Progressive Lenses

Varilux progressive lenses, made by Essilor, are specifically designed for people who experience presbyopia, a condition in which near vision becomes increasingly blurred with age. Combining technology and innovation, Varilux lenses provide clear vision at all distances—near, far, and everything in-between. With over 400 million pairs sold, Varilux is the progressive lens brand most prescribed by eyecare professionals and trusted by millions of lens wearers worldwide.

Shamir has been a leader in eyeglass lens design for decades and, in recent years, has developed exceptional lens technology that can often satisfy previously unmet or unique needs of progressive lens wearers. Shamir's Autograph Intelligence is the first progressive lens of its kind, utilizing the power of artificial intelligence-assisted lens design.

Crizal is the market leader of no-glare (anti-reflective) lenses. These lenses offer more comfortable nighttime driving by reducing glare from headlights, taillights, and street lights, and they reduce eye fatigue caused by reflections from computer screens and daytime lights. Crizal lenses are clean, clear, and glare-free, so they're virtually invisible to those around you. People see you instead of your glasses. Crizal No-Glare lenses have also earned The Skin Cancer Foundation's Seal of Recommendation for UV protection.

Xperio UV polarized prescription sunlenses provide maximum UV protection, easy cleanability, and exceptional scratch resistance for the best vision under the sun. These lenses are available in a wide variety of color and sunglass mirror options—over 20 colors and mirror options to suit every style!
---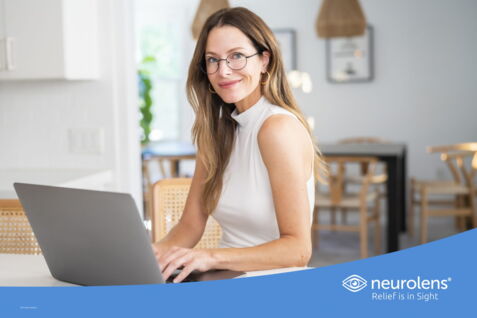 Vision is made up of two major functions, visual clarity (how clearly we see objects) and visual alignment (how efficiently our eyes point at objects). Seamless eye alignment is needed for effortless, comfortable vision. When eyes struggle to maintain alignment, there is the difference between where the eyes naturally want to be and where they need to be. This struggle may lead to headaches, eyestrain, fatigue, and so on. While virtually every eyeglass lens is designed to help you see more clearly, Neurolenses may also help you see more comfortably by allowing your eyes to relax and relieving the stress caused by ocular misalignment. Eola Eyes is pleased to offer Neurolenses to our patients and we would be happy to discuss if Neurolenses could be right for you at your next visit.
---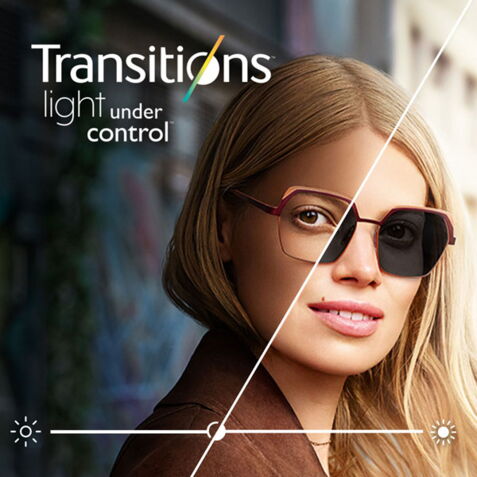 Transitions lenses automatically adapt to changing light levels, going from fully clear indoors to dark within seconds of stepping outside. They are perfect for everyday wear and block 100% of harmful UV rays. Transitions lens technology has evolved dramatically over the years and these lenses perform better than ever before. They are also now available in a wide array of lens color options, from their Signature Colors of Gray, Brown, and Graphite Green, to their Style Colors of Emerald, Sapphire, Amethyst, and Amber.